Beautiful Skin Is Within Reach!
Meet Dr. Aspacio
Summerlin Dermatology and board-certified dermatologist Dr. Reuel Aspacio believes that beautiful skin is within reach. When you are looking for an amazing doctor to trust with your dermatological health and well being, we invite you to make an appointment to meet with Dr. Aspacio, who offers individualized treatment planning at his practice in Las Vegas, NV. With more than 20 years experience and an extensive medical education, Dr. Aspacio has delivered excellent skin care to men and women no matter the condition of their skin. Throughout his career, Dr. Aspacio has performed thousands of procedures healing common skin conditions, enhancing aging skin, treating malignancies of the skin, and achieving time-tested results for his patients. He is an award-winning dermatologist that is recognized as an expert injector for cosmetic injectables (wrinkle relaxers and dermal fillers). Dr. Aspacio offers only high-quality products at his practice to pamper your skin in the office or at home. To learn more about Dr. Aspacio, please call and schedule an appointment to meet him in person for a private consultation about your skin condition.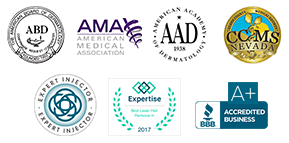 Meet the Doctor
About Summerlin Dermatology
Founded by our board-certified dermatologist and expert injector, Dr. Reuel Aspacio, Summerlin Dermatology has made general, cosmetic, and aesthetic dermatology available for patients of all ages since 2001 in Las Vegas, NV. Alongside Dr. Aspacio, our licensed and certified medical staff members believe in providing personalized care with first-rate treatments in a comfortable and relaxed setting. This makes a difference in our patients', men and women, lives. We are prepared to answer questions and address concerns in a friendly and professional manner because the health of your skin is our number one priority.
Reviews
Finding a new doctor you love of any specialty is like finding the best pair of jeans. I saw Ms Eriko NP and she was sooo great! She truly cares about my skincare issues. She engages in conversation and isn't in and out of a room in 2 mins! I highly recommend Summerlin Dermatology!
You don't have to wait Long the Office is Comfortable the People are Nice
THE best Dermatology place Vegas. Extremely professional while hilarious and personal at the same time.  I love Trish and Dr Aspacio.  Would never go anywhere else again. Thank you so much
Summerlin Dermatology is the best Dermatology office in Las Vegas! If I could give this office 100 stars I would in a heartbeat. My grandparents have been patients of his for over 10 years. My papa had skin cancer that Dr. Aspacio removed successfully. My grandma is a Filipino woman who loves to garden and she developed Melasma, Dr. Aspacio knew the best way to help her. I personally started going to Dr. Aspacio In 2008, I had surgery on my arm and I ended up finding out that I develop keloids. I was very self conscious about my scar, my grandparents recommended that I see Dr. Aspacio and I'm so thankful that I did. Years later in 2017, my boyfriend has a consistent rash that he couldn't get rid of, then he started having fast unexpected hair loss. He went to numerous dermatology offices in Las Vegas and never found anything that helped. I finally convinced him to see my dermatologist he made an appointment to see Alice at Summerlin Dermatology. He said she was very professional and was very direct and to the point. Due to his Alopecia, Alice did injections at the site where he had hair loss and thankfully the hair grew back perfect. You'd never know he had hair loss! She prescribed a few things for the rash and he finally had results. He was happy and that made me happy! I couldn't be more thankful for this office in taking care of my family. I currently get my botox from Dr. Aspacio & I love my results, all thanks to Trish, she is their cosmetic coordinator and office manager. She has the most awesome personality. Every time I get to see her it's like catching up with family, I feel right at home. I work for another surgeon in Las Vegas and our patients can't say enough great things about Trish and everyone else at Summerlin Dermatology. I only trust Dr. Aspacio with my face! I highly HIGHLY recommend this office for any medical dermatology or cosmetic needs. (:
Alice and staff are great! Thank you all!
4.9 Average Rating
277 Total Reviews
Map and Location
About Us
From diagnosing a common skin condition like acne to treating precancerous cells before a malignancy develops, our dermatology team will deliver the latest treatments with cutting-edge technologies to get your skin back to a healthy state. For our cosmetic and aesthetic skin care patients, we have a wide range of medical-grade beauty treatments that range from chemical peels to laser treatments that can change the surface of your skin for the better. Dr. Aspacio offers anti-aging injectables (like BOTOX and Restylane), nonsurgical body contouring, light therapies, and vein treatments to bring out the best in your beauty.