Beautiful Skin Is Within Reach!
Meet Dr. Aspacio
Summerlin Dermatology and board-certified dermatologist Dr. Reuel Aspacio believes that beautiful skin is within reach. When you are looking for an amazing doctor to trust with your dermatological health and well being, we invite you to make an appointment to meet with Dr. Aspacio, who offers individualized treatment planning at his practice in Las Vegas, NV. With more than 20 years experience and an extensive medical education, Dr. Aspacio has delivered excellent skin care to men and women no matter the condition of their skin. Throughout his career, Dr. Aspacio has performed thousands of procedures healing common skin conditions, enhancing aging skin, treating malignancies of the skin, and achieving time-tested results for his patients. He is an award-winning dermatologist that is recognized as an expert injector for cosmetic injectables (wrinkle relaxers and dermal fillers). Dr. Aspacio offers only high-quality products at his practice to pamper your skin in the office or at home. To learn more about Dr. Aspacio, please call and schedule an appointment to meet him in person for a private consultation about your skin condition.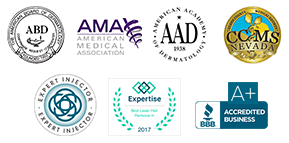 Meet the Doctor
About Summerlin Dermatology
Founded by our board-certified dermatologist and expert injector, Dr. Reuel Aspacio, Summerlin Dermatology has made general, cosmetic, and aesthetic dermatology available for patients of all ages since 2001 in Las Vegas, NV. Alongside Dr. Aspacio, our licensed and certified medical staff members believe in providing personalized care with first-rate treatments in a comfortable and relaxed setting. This makes a difference in our patients', men and women, lives. We are prepared to answer questions and address concerns in a friendly and professional manner because the health of your skin is our number one priority.
Reviews
I made an appointment at Summerlin Dermatology and I was a little apprehensive because of the mixed reviews.  My check in experience was fine, they took me back within my appointment time, and I have to say that the nurse practioner Alice Dreyfus made me feel so at ease as she did a full body scan, and looked me over. I would highly recommend this Dermotologists office!
What a great experience. Was looking online for a dermatologist and Summerlin Dermatology had gréât reviews so made an appointment for my husband and was NOT disappointed. What a great doctor, took the time to explain everything and great sense of humour, and the staff is also great. Sometimes hesitant when reviews are do good you wonder if there actual patients, well this place is certainly 5 star.
Everyone hear is nice and informative.
Dr. Aspacio is by far the best dermatologist in town. Amazing bedside manner and has a way to keep things light and funny while staying professional. Best clinic I've been to in Vegas
4.9 Average Rating
342 Total Reviews
Map and Location
About Us
From diagnosing a common skin condition like acne to treating precancerous cells before a malignancy develops, our dermatology team will deliver the latest treatments with cutting-edge technologies to get your skin back to a healthy state. For our cosmetic and aesthetic skin care patients, we have a wide range of medical-grade beauty treatments that range from chemical peels to laser treatments that can change the surface of your skin for the better. Dr. Aspacio offers anti-aging injectables (like BOTOX and Restylane), nonsurgical body contouring, light therapies, and vein treatments to bring out the best in your beauty.