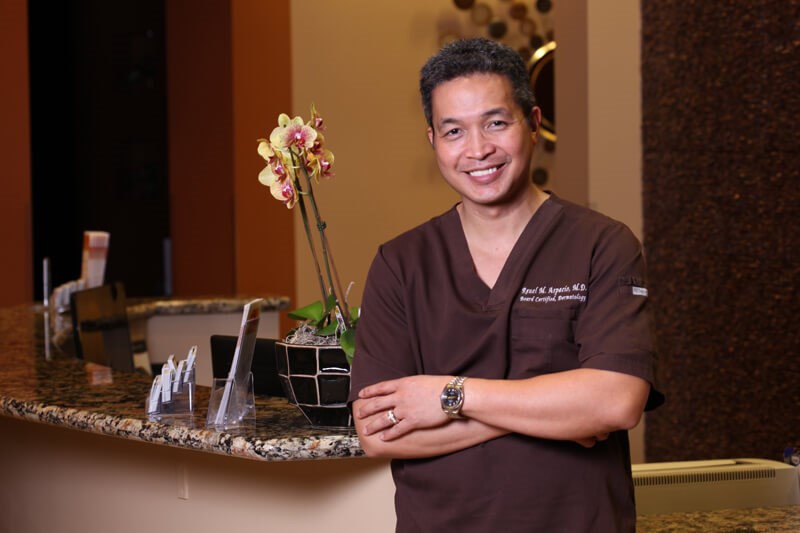 Our Las Vegas, NV board-certified dermatologist and medical director of Summerlin Dermatology, Dr. Reuel Aspacio, created his practice in 2001 with the primary goal of offering the best possible skin treatments available to patients of all walks of life. He believes that attaining and maintaining healthy, beautiful skin is within reach for all his patients. Practicing in Las Vegas since 1996, his purpose in founding Summerlin Dermatology was to provide the finest in medical and cosmetic skin care for people of all ages, races, and ethnicities. Dr. Aspacio's diverse background and experience have made him one of the foremost figures in general, medical, and cosmetic dermatology. He diagnoses and treats patients with skin, hair, and nail disorders or conditions of all forms — from the smallest mole or wart to extensive acne blemishes and sun damage. Dr. Aspacio has a full range of treatments no matter if they are minor afflictions or major illnesses like skin malignancies. With his aesthetic team at Summerlin Dermatology, he delivers specialized aesthetic skin rejuvenation treatments such as cosmetic injectables, laser skin treatments, sclerotherapy, and nonsurgical skin tightening. He is board certified by the American Board of Dermatology.
Las Vegas Magazine named Dr. Aspacio a 2010 "Top Doctor" in the city, and then in 2014 as one of the "Top 10 Doctors in Nevada," "Top 10 Doctors in Las Vegas," and "Top 10 Doctors in the Metro Area, Greater Las Vegas" for dermatology. As a board-certified dermatologist, Dr. Aspacio has been recognized as an "Expert Injector" by the American Society for Aesthetic Plastic Surgery since 2016. Less than three percent of the 1.2 million doctors legally allowed to administer injectables in the United States are qualified to be an expert injector. To earn this prestigious honor, he demonstrated extreme due diligence in regard to patient safety, administered FDA-approved products only with reliable results, and provided his patients with excellent consumer education.
Dr. Aspacio's delivery of care is the culmination of years of study, experience, and commitment to continuing his medical education. With his artistic sense of form, balance, and proportion along with his medical acumen, Summerlin Dermatology is a premier source of cosmetic and medical dermatology in Las Vegas. Affiliated with many hospitals in the area, Dr. Aspacio remains in the forefront in the delivery of dermatological care in the Valley.
At Summerlin Dermatology, Dr. Aspacio offers general, medical, and cosmetic dermatology plus aesthetic services for patients with a variety of skin conditions. In Las Vegas, he is known for his skin cancer treatments as well as his artistic skill as an expert injector of FDA-approved cosmetic injectables such as BOTOX®, Sculptra®, and Kybella®. He knows there is a great art and science to choosing the right dosage, strength, and aesthetic injectable for his patients. Dr. Aspacio understands the subtle differences between fillers, the area being treated, and the overall goal in mind. As he is not afraid to take on the difficult cases, Dr. Aspacio loves the challenge of addressing a skin condition that other doctors have deemed not responsive to treatment. With his team of certified medical aestheticians and nurse practitioners, he offers a wide selection of nonsurgical treatments for the skin such as facial rejuvenation, laser treatments, cosmetic injections, fat reduction, hand rejuvenation, sclerotherapy, and platelet-rich plasma therapies for the skin or hair.
Dr. Aspacio received his bachelor's degree in biochemistry at the University of California, Davis with the distinction of having earned highest honors. He remained at UC Davis to complete his medical degree. He then went on to complete an internship in internal medicine at the University of California, San Francisco/San Joaquin Program in Fresno, CA. Dr. Aspacio then finished his residency training in dermatology at the Martin Luther King, Jr./Charles Drew Medical Center in Los Angeles, CA where he gained experience in the assessment and treatment of ethnic skin.
Dr. Aspacio is proud to be a member of the following medical organizations:
American Academy of Dermatology, Fellow
American Society of Cosmetic Dermatology and Aesthetic Surgery, Member
National Psoriasis Foundation, Member
Las Vegas Dermatological Society, Member
Dedicated to his community, Dr. Aspacio also devotes his time to teaching as an associate professor at the University of Nevada, School of Medicine (UMC). He also performs skin cancer screenings throughout southern Nevada.
Presentations and Research
Dr. Aspacio has presented at the following national conferences or conventions:
Aspacio, R. Vitiligo and Thyroid Disease. Presented at the Society for Investigative Dermatology National Convention, Washington, D.C.

Aspacio, R. Vitiligo, Lichen Sclerosus, and Morphea. Presented at the National Medical Association National Convention, Atlanta, GA.

Aspacio, R. Vogt-Koyanagi-Harada Syndrome. Presented at the Los Angeles Metro Dermatologic Society, Torrance, CA.

Aspacio, R. Eruptive Syringoma. Los Angeles Metro Dermatologic Society Torrance, CA.

Aspacio, R. Multiple Giant Pilomatricomas. Presented at the American Academy of Dermatology National Convention, New Orleans, LA.

Aspacio, R. Vitiligo. Presented at the National Medical Association National Convention, Orlando, FL.

Throughout his career, Dr. Aspacio has conducted many clinical and laboratory studies for acne, lasers for acne scars, and more.
Aspacio, R. and Wheeland, R. Clinical Study Evaluating Infrared Coagulator in Tattoo Removal. Department of Dermatology, University of California, Davis, CA.
Aspacio, R. and Berry, A.M. Laboratory Study for the Elucidation of the Characteristics of Frankia. Department of Horticulture, University of California, Davis, CA.
Reviews
"Dr. Aspacio has been terrific in treating my pre-cancerous skin condition."
R.K.
Google
"Since the pandemic, I've had a few appointments with Dr. Aspacio through Telemedicine. The appointments have gone well. He's always been a great doctor."
P.J.
Healthgrades
"Did my research and decided to come in. Dr. Aspacio paid attention to what concerned me. The injections were quick, I could see a big difference! Would recommend."
D.F.
Healthgrades
"Trish and Dr. Aspacio were such a joy to be around. I accompanied my boyfriend to his appointment and they were sure to make our experience fun and engaging. They're so knowledgeable and made us feel comfortable throughout his entire appointment. They're a great team! We're looking forward to getting treated by them again. :)"
A.S.
Yelp
"I had reached out to Summerlin Dermatology a year ago in regards to my severe hyperhidrosis on my hands. I had connected with Trish as I was looking at getting Botox for my hands. Trish was very sincere and honest, she had recommended a few alternative options before pursuing Botox as the procedure itself is a bit pricey and can be painful given the amount of units needed. I had tried all of the options and still wanted to opt-in for Botox for better results. I had called Trish a year later and she scheduled an appointment for me with Dr.Aspacio.It was so nice to finally meet Trish in person as she definitely made the experience enjoyable and fun (aside from the procedure itself, as 100 units being injected to each hand is definitely a bit painful haha). Dr.Aspacio was very kind and made the procedure as quick as possible. I really appreciate the kindness and the hospitality from everyone at Summerlin Dermatology. Thank you again to Trish for being so honest and being so helpful throughout my journey on finding a solution for my hyperhidrosis. Will definitely be back when the time comes again and would recommend to anyone who has any dermatology needs!"
D.C.
Yelp